Description
Head mounted tablet Realwear, Best industrial smart glasses, Smart glasses hands-free voicecontrol
The RealWear® HMT-1 provides the foundation for Connected Worker programs. Use it in wet, dusty, hot, dangerous and loud industrial environments. A fully rugged head-mounted device, it optionally snaps into safety helmets or attaches to bump caps and can be used with safety glasses or corrective eyewear.
The high-resolution micro display fits just below your line of sight and views like a 7" tablet.
It's an industrial dashboard: there when you need it and out of your way when you don't.
The HMT-1 works with powerful software applications from our solution partners in four core categories,
each optimized for completely hands-free voice control. That means no scrolling, swiping,or tapping – just
simple voice commands. Use it for remote mentor video calling, document navigation, guided workflow,
mobile forms and industrial IoT data visualization.
Head mounted tablet Realwear, Best industrial smart glasses, Smart glasses hands-free voicecontrol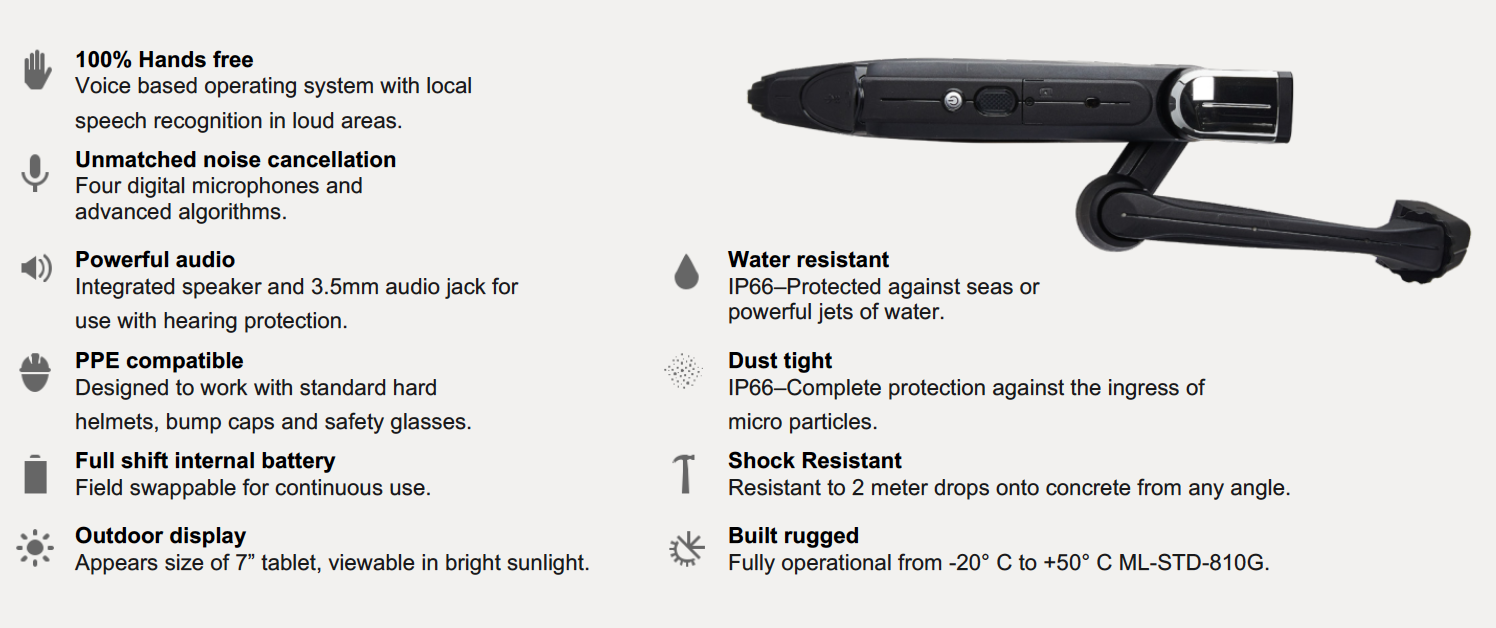 FREE PRICE Realwear HMT-1 and HMT-1Z1-atex distributed with PUs know-how from 1200€.
Distributed RealWear HMTs needs start up support and a demo session. In the same way we optimize RealWear HMTs with softwares best suited for your needs. That is to say FREE PRICE SYSTEM- very depending on you needs.
We can sometimes offer used RealWear HMT-1 from price 1200€.
In conclusion, let us know what type of item, equipment or service you are looking for, how you prefer to buy it, and we will do our best to help you. We run comparison tests and ROI calculations. With a stronger product you will have a lower total price as the products will last many times longer and have less maintenance.
We are looking forward to helping you!
Visual Assist
The RealWear HMT-1 is equipped with a high definition camera that can be used to capture photos and videos in hard-to-reach places like tunnels, towers, or behind large machinery and equipment.
•Hands-free verification and documentation
•Audits, inspections and quality assurance
•On-Demand Training
Remote Mentor
The front line worker can share their point of view instantly with the back office subject matter expert, such as when using their hands to point to issues on a piece of heavy equipment, with full zoom features and high resolution smart camera.
•Maintenance and repair
•Manufacturing and assembly
•Telemedicine
Head mounted tablet Realwear, Best industrial smart glasses, Smart glasses hands-free voicecontrol
Digital Workflow
Digital Workflow solutions provide visual instructions, checklists,data entry, and visual documentation of completed steps while on the go. HMT-1 enables digital workflow toreach workers when and where they need it—improving productivity and reducing operational errors.
•Picking and packaging
•Product testing and quality control
•Incident reporting, health and safety
Keywords (Max.5): Head mounted tablet Realwear, Best industrial smart glasses, Smart glasses hands-free voicecontrol