PU-Industry Sectors
Products and services devided in PU-Industry Sectors.
(List of solutions and underlaying data e.g. the format for a business case, including ROI, material specifications and process specifications to be used in sustainable purchasingorders.)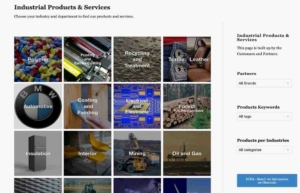 PU-Industry Sectors contains products and services divided under Consulting, Distribution and New Development.
Use the forms and registrate your interest,  and you will receive focused information regarding the Industry Sectors you are interested in to keep you informed about News, Cases, Pitches and Gossip.
"More"
Every month we will reply with latest News, Cases , Pitches and Gossip.
It's important for us to work with focus on information divided per sector to the right contact persons or interested contacts in your company. We all have a lot to do and limited time for general information but we all know the right persons in your company are very interested in information helping them in the ongoing project or new projects.
For urgent matters you can sms, call or mail.  If we don't have the answer in our portfolio today we will use our network to find out asap to reply with suggestions regarding  how we can help you.
HELP US TO HELP YOU  – keep us informerad about your interest and projects and we will share with you the information matching your interests.
"Less"
Get free Industry Segments tips straight to your inbox!
Get monthly News, Cases, Pitches and Gossip tips on Industry Sectors sustainable solutions (ROI).
+46 722 344 202
Mr. Ulf Perell
VD/CEO
ulf.perell@puconsulting.se
Flexoprinting and Gravureprinting is used for example in printing packaging, labels and continuous patterns. 
Whats in it for you ?
we guide you regarding :

prototypes
design
specifications
virgin materal or systems
process manual or automatic process
mixing machines
ovens   (special built rotation ovens)
pigments
release agents
green mold cleaning solvents
green flushing solvents
flusing solvent recyclers
accessories
… contact us if you need someting and we will help you
Below under ….


"Get free Industry Segments tips straight to your inbox!"

… you can add other Industry Sectors
Keyword: PU-Industry Sectors