Description
Solvent and Water Recyclers
ALPHA series
The solvent distillers Irac Tech ALPHA series, mono block, is characterized by the tilting structure and the fixed tank. Particularly suitable for users that
need to distill and recycle solvent from washings (solvent or water), contaminated by substances such as inks, oils, fats, resins or pigments.
Solvent

and

Water

Recyclers,Reclaimers, recycler, recycling, recover, solvent recovery, solvent distillation, dirty solvent regeneration, solvent washing equipments
See video below:
Solvent and Water Recyclers
AV series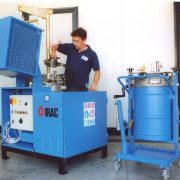 The solvent distillers Irac Tech AV series. Two fundamental ranges characterize IRAC production differing according to the use and production requirements: AV series with removable tank and  MAV series with fixed tank.
See video below:
Multi-batch automatic distillation plant .Solvent and Water Recyclers
MAV100 – MAV 200- MAV335 – MAV500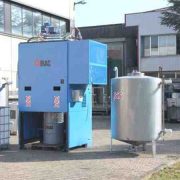 Equipment constructed according to the dictates of current regulations (European and national), provided with CE declaration of conformity, built for use in explosive danger ATEX Zone 1 locations with Eex (EXPLOSION PROOF) protection and temperature class T3 (maximum surface temperature 200°C).
.
See video below:

MAV Recycler – Automatic Distillation plant MAV technical description
Water Purifying Systems –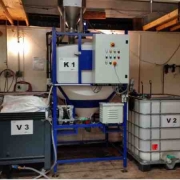 Ecowater BATCH 150, 300 and 600 
To distill/clarify water, the best equipment is the Ecowater which can work up to 1000 lt / hour. The Alpha and AV series can distill water but it's usually sold to industries with small amount of water. For big quantities, we advise the Ecowater system.
.
Keywords (Max. 5): Solvent and Water Recyclers