Description
Printing Sector, Anilox Cleaning , Plates , Washing and Distilling washing, Flexographic printing
Brochure: PrintingSector
.
Irac Tech offers the printing sector  definitive solutions for washing and distilling the washing liquids.
Washing Solution Distilling:Printing Sector,
Flexographic printing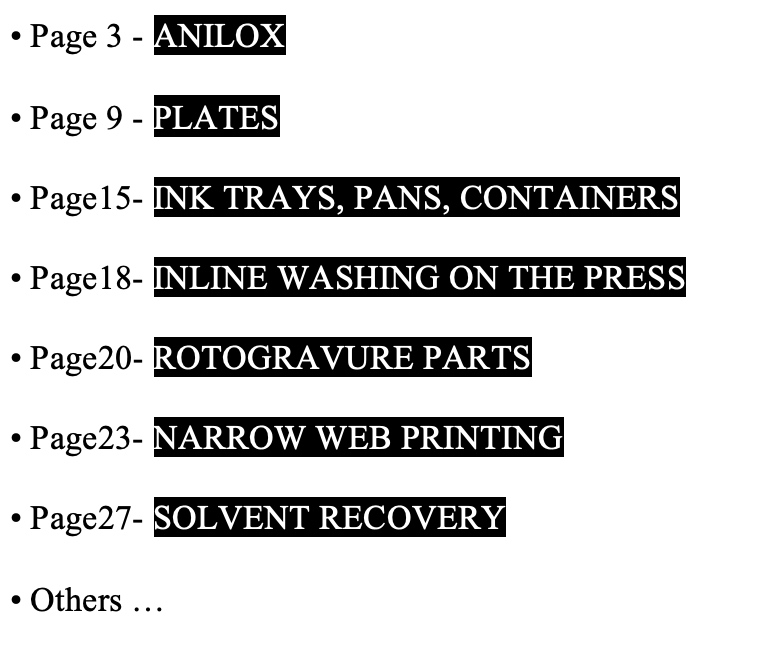 ULTRASONIC: Ultrasonic washing exclusive Irac Tech design and manufacturing, cycle with automatic rinse and blowing. printing
PLATES:
All these systems are studied to clean depthly and efficiency. LC Electra and LC Electra Evolution:Flat washing machine for plates – SR LC automated wash tunnel with closed loop.
ANILOX:

Printing Sector, Flexographic printing
All these systems are studied to clean depthly and efficiency.The cleaning by high pressure water 120 bar is the most economic and effective.
ROLLCLEAN HP today represents the new concept for the cleaning of the aniloxes. This machine reaches the best value for money. The cleaning process follows 3 steps: – The automatic aspersion of the cleaning detergent (we suggest to use our chemical INKLEAN PRINT REMOVER) sprayed by means of dedicated nozzles, installed on a side of the washing bath; – The washing with water at high pressure. On the other side 2 special nozzles, made in titanium, spray the water at 120 bar (1,740 psi) that cleans the anilox deeply and efficiently; – The last automatic cycle is the blowing of compressed air that dry the anilox. The entire automatic cycle takes normally not more than 15 min. The chemical used in a closed loop has a filtering system which works every cycle.
ROTO GRAVURE PRINTING PARTS:
The propose, solutions to clean printing presses parts like: Aniloxes, sleeves, doctor blades, ink trays, etc…
NARROW WEB:
Irac Tech offer you every solution suitable to clean all the printing presses part like: rubber cylinders, ink trays, containers, etc.
FLEXO:
Designed for proper delivery and effective cleaning of flexo graphic printing units. These units integrate a pumping system carrying the ink from its pail to the printing unit, and provides a proper control of its correct ink flow into and from the applicator head. It grants ink flow consistency and proper pressure control, in order to avoid over-pressure, air bubbles formation, and splashes.
Keywords (Max. 5): Printing Sector, Anilox Cleaning , Plates , Washing and Distilling washing, Flexographic printing